This week is Kids Clothing Week Challenge Spring 2011 sew along organized by Elsie Marley (see details http://www.elsiemarley.com/kids-clothes-week-spring-2011.html).  The idea is that you spent at least 1 hour per day working on something for your kids, only in my case it'll be for my grandkids.  A couple of weeks ago I posted about the Thomas the Train shirt I'd made for Jake.  So Mother's Day I started making a dress for his twin sister, Emily.  I'd seen this cute McCall's pattern 6310 ( http://bit.ly/kb9ZCN) and a yellow eyelet fabric that looked so much like spring, that I thought would be perfect for dress A.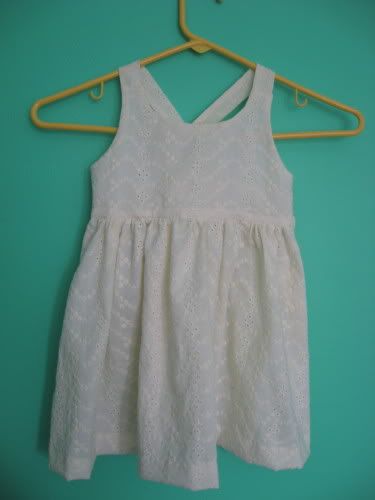 I'm going to make the purse too, as Emily loves to carry a purse, but I've only got as far as cutting out the purse.  I actually started on the dress on Sunday, and finished it Monday, so I'm calling it a Day 1 item, even though it's taken me most of the week to get the photos and get it out there.  Obviously the dress took more than 1 hour to make.
It has a left side-zipper and the shoulder straps cover over in the back.
I've added the photos to the Elsie Marley group on Flickr as well.