I'm back! Did you miss me? Well, I hope you did but my guess is that you didn't. After looking at a lot of other blogs I've decided that I should write shorter ones, and write them more often.
I can hardly believe that it's March already. I've been doing a lot of sewing. Recently I was relining coats for customers. As we get into warmer weather, I do a lot of putting new linings in winter coats before people put them away till next year. I learned the hard way about estimating and quoting for customer about his coat the other day. It was leather, and that takes longer as I set the sewing machine up for a slower speed. It had 3 inside pockets. Now I've never relined a coat where I had to work around inside pockets before, so that is what I way under estimated. Oh well, live and learn, I guess. Now I will know for the future. But the customer was thrilled with his jacket, and agreed to let me use photos on my website. So maybe my under-estimate mistake will at least bring in some more customers! Here's a photo of the jacket with the new lining.
The customer wanted a red lining, even though the original was black. He said he'd always wanted red! And he'd not worn the jacket for years because the old lining was ripped so badly. He wanted all of the leather tabs that had been in the original put back on this lining, as well.
The next 2 show the inside pockets and you can see what I mean about those taking a long time!
The customer was very happy with the jacket and even posed for these photos of it!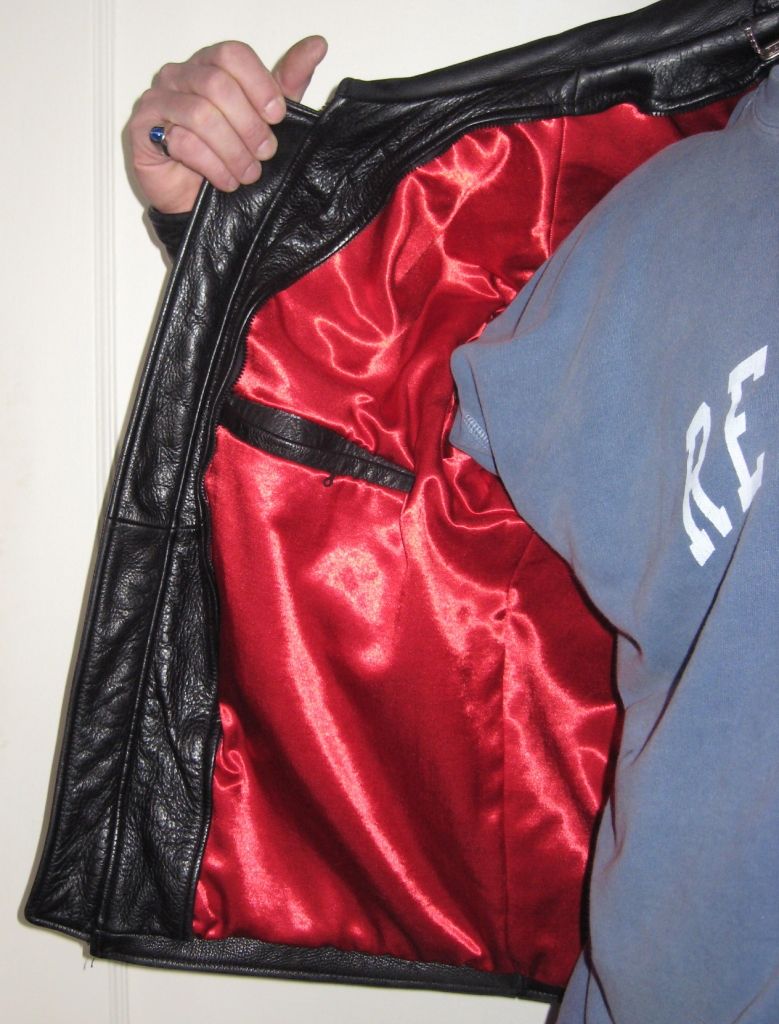 All in all I was very happy how the lining turned out. Now lets see if it gets some more orders!