Back on May 12 and 15 I told you about making the yellow eyelet dress for my granddaughter, Emily.  Over Memorial Day weekend we were all in VA for my Mom's 97th birthday, and Emily wore her next dress to the birthday party.  It turns out the Thomas the Train shirt I'd made for her twin brother, Jake, was too big, so I didn't get to see him in it.  At least he can always grow into it. 
The only photo I have with the purse and it's on her other arm so you really can't see it that well.  But she did like to carry her little boxes of raisins in it.
You can see the front of the dress better when she's sitting next to her great grandmother who was opening her presents.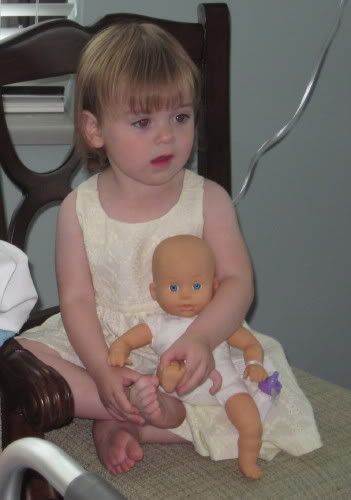 My birthday is the day before my Mom's and when I was opening presents we got a photo of the back of Emily's dress as she was leaning on my knee.  The size 2T fit her perfectly.  I just had to make the skirt 1" shorter than that pattern called for.
My next project for Emily will be the Oliver + S "Family Reunion Dress" that Sarah is going to be heading up starting June 13 on http://www.aboveallfabric.com/blog/